R&B Gossip/News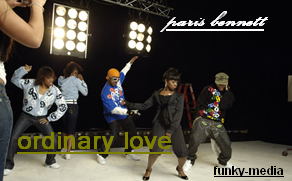 The above picture is from Paris Bennett's new video for the Darkchild produced "Ordinary Love". The track is HAWT!!! I also like "Burnt Up" and "Dreamin'" by Paris. The video is scheduled to premiere on Yahoo! Music by the end of the month. Her debut album, Princess P, is in stores this spring!
Credit: Kevipod
--
Hilary Duff's upcoming album, Confessions of Love, is going to be released on April 3. It includes production by Tim & Bob (Mya, Destiny's Child, Madonna) , Kara DioGaurdi (Paris Hilton, Ashlee Simpson, The Pussycat Dolls), 4 time Grammy winner, Manny Marroquin (John Mayer, Alicia Keys, Kanye West), Richard Vission (Usher, Sting, Killers) and Will.I.Am (Fergie, LAX, Kelis). The first single, "Play With Fire", didn't fare well on the charts, but I have high hopes for "With Love"!! "With Love" is already available to request on Radio Disney, so REQUEST, REQUEST, REQUEST!!
--
Silena Murrell has switched to a 'bigger and better' record label. The reasons that she left Interscope are unknown, but I think it has something to do with NO PROMOTION. Anyways, I am really looking forward to her new album. I will also post an album sampler this Thurday, so check it out!!
///